September 15, 2023, Township of Champlain – The 2023 Champlain Firefighters' Recognition Ceremony took place during last night's Council Committee of the Whole meeting where 50 of Champlain's current and recently retired firefighters were honoured for their exemplary service to the community of Champlain Township.
Out of Champlain's 50 firefighters, 14 were highlighted for having reached important milestones in their careers and awarded medals, bars, and certificates for their years of service. Those having attained 20 years of service received a federal Fire Services Exemplary Service Medal, whereas those having attained 25 years of service received the provincial Fire Services Long Service Medal. Firefighters having reached over 25 years of service, received a service bar for every 5 years to be added to their medal ribbon. Below are the 2023 recipients:
20 Years of service
Patrick Bernier Deputy District-Chief, L'Orignal
Richard Sincennes District Chief, L'Orignal
Benoit Larocque Captain L'Orignal
Stéphane Pépin Captain L'Orignal
Marc Brunet Firefighter Vankleek Hill
Greg Lydiate Firefighter Vankleek Hill
Kevin Bernique Safety Officer Vankleek Hill
30 Years of service
Mark Henderson Captain Vankleek Hill
Jeffrey Carkner Deputy District-Chief Vankleek Hill
Eric Jaring Firefighter Vankleek Hill
James Cowan Captain Vankleek Hill
Louis Turcotte Captain (Retired) Vankleek Hill
Michel Martin District Chief Vankleek Hill
40 Years of service
Ernest Roebuck Captain (Retired) Vankleek Hill
"It is a privilege to honour the men that put their lives at risk every day for the sake of their community. On behalf of Council and myself, we thank them for their service and extend our heartfelt congratulations to those who have been awarded for their outstanding years of service," expressed Mayor Normand Riopel.
Champlain Township also wishes to extend its congratulations to its 2023 award recipients and its deepest gratitude to all its firefighters for their past and continued service.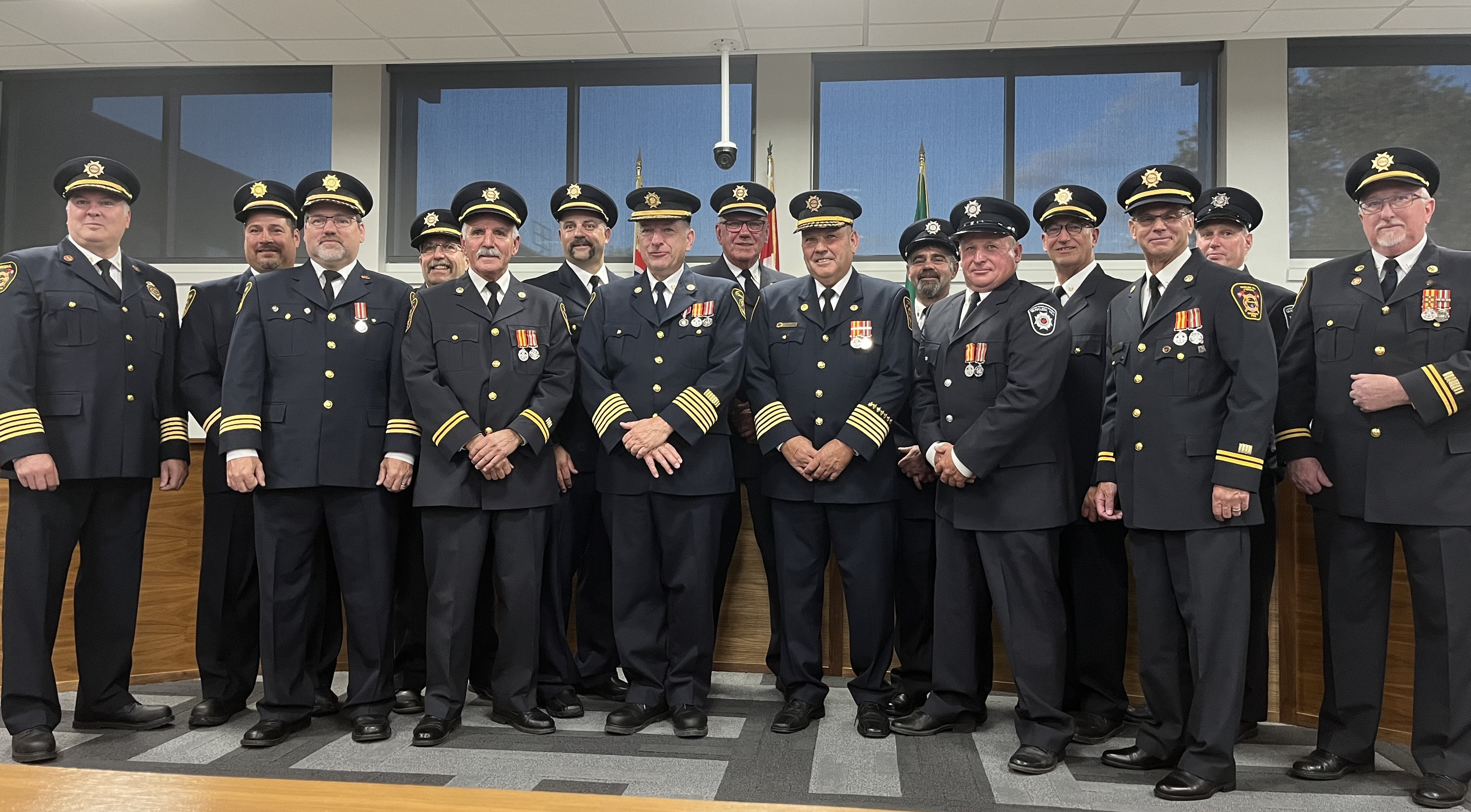 The 2023 Firefighters' Recognition Ceremony Award Recipients
Left to right: Richard Sincennes (District Chief, L'Orignal), Stéphane Pépin (Captain, L'Orignal), Patrick Bernier (Deputy District Chief, L'Orignal), Jeffrey Carkner (Deputy District Chief, VKH), Louis Turcotte (retired Captain, VKH), Benoit Larocque (Captain, L'Orignal), Ghislain Pigeon (Director), James Cowan (Captain, VKH), Michel Martin (District Chief, VKH) Marc Brunet (Firefighter, VKH), Eric Jaring (Firefighter, VKH), Kevin Bernique (Safety Officer, VKH), Marc Henderson (Captain, VKH), Greg Lydiate (Firefighter, VKH) and Ernest Roebuck (retired Captain, VKH).